The contemporary transpacific music scene is perhaps best characterized by the almost universal appeal of reggae music which has been adopted, adapted and nativized by musicians throughout the many cultures in and surrounding the Pacific Basin. It is also an excellent example of the hybridity that results from transpacific relations.
A series of video clips are provided below which demonstrate the hybridity and acculuration of reggae that has taken place within the Pacific Basin.
According to an online article entitled "Reggae Across the Pacific" by Emiko JAH Dawta Noda, in 1979 the famous reggae band Bob Marley and the Wailers broadened the world influence of reggae music from its Jamaican roots when they played at Nanako Sun Plaza in Japan. But even earlier in 1975, Japan Phonogram (today's Recording Industry Association of Japan) sought to advance reggae music in the country when they published the first Japanese reggae album named Kagami No Naka No Ore. This 10-track album was released as a collaboration album featuring Japanese rock singer Toshikatsu Uchiumi of ex-Carol (a legendary Japanese rock band) and the Cimarrons. It was later released with the English title, Gemini Part I (1997 UP/Universal J). Today, the reggae band Mighty Crown Sound System is a Japanese household name, and they are distinguished by their business success over the last two decades throwing the annual Yokohama Reggae Bash.
Click here to watch Ichiban Reggae Japan documentary https://www.youtube.com/watch?v=LRACkDMxAR0 
Click here to watch a brief video of the late Bob Marley singing one of his most famous reggae songs "Jamming"
From Japan's northern island Hokkaido, the Oki Dub Ainu Band (www.tonkori.com) produces its own distinguishable roots dub reggae music (dub = a remix subgenre of reggae) , in which they blend the indigenous Ainu language with reggae dub and ethnic resonance. Lead singer Oki Kanou plays his own electric tonkori, a traditional Ainu five-string instrument. On the electric tonkori, Oki is a a musical pioneer in combining the spheres of reggae dub and Japanese traditional music. The Oki Dub Ainu Band has awed audiences at the Washington DC Lincoln Cente and reggae festivals from Singapore to Australia and UK, as well as at major genre-breaking Japanese summer music festivals like the Fuji Rock Festival in Naeba (www.smash-uk.com), the Rising Sun Festival in Ezo (rsr.wess.co.jp) and the Magical Camp (All Night Music and Art Camp) in Sapporo (www.magicalcamp.com).
Click here to watch a brief video on the Oki Dub Ainu Band from Hokkaido.
Then there is "Tai Chi Reggae" or Lei Gui "Thunder Ghost" music, which is the Chinese word for reggae translated back into English. The reggae band called Long Shen Dao plays what they call Tai Chi reggae, which blends the Island style reggae of Canada's West Coast with Canada's East Coast Newfoundland-sound -- played in contemporary Beijing.
Click here to watch a brief video of the Chinese Reggae band 龙神道 Long Shen Dao 中国雷鬼乐队 --《拥抱》
Reggae en Español (in Spanish) spread from Jamaica throughout the Spanish speaking Caribbean and the rest of Latin America during the 1970s and 1980s. It does not have any specific characteristics other than it is sung in Spanish or Portuguese, usually by artists of Latin American origin. For example, Ganja is a Mexican reggae band that is popular in Mexico and among Latinos/as in the United States.
Click here to watch Ganja singing their song NIÑA RASTA.
Reggaeton is a form of urban music that first became popular with Latin American youths in the early 1990s. Reggaeton's predecessor originated in Panama as reggae en español (in Spanish). After the music's gradual exposure in Puerto Rico, it eventually evolved into what is called reggaeton. It blends West-Indian reggae and dancehall with Latin American genres such as bomba, plena, salsa, merengue, Latin pop, cumbia and bachata, as well as hip hop, contemporary R&B and electronica.
Click here to listen to a Chilean reggaeton band called Batallon Rudeboys.
In the Philippines reggae music is very popular and has spawned it own subgenre of Pinoy reggae. Reggae in the Philippines comprises the many forms of reggae and its sub-genres, and at times combines traditional Filipino forms of music and instruments. Cebu, Manila, Quezon and Boracay are some of the cities in which reggae has found a base. Many reggae artists reside in these cities and perform at local bars and clubs. The Visayas region of the Philippine islands has had the largest concentration of reggae groups, and the Visayan city of Cebu has been called The Reggae Capital of the Philippines.
Click here to watch the seventh anniversary music video of the Filipino reggae group called Reggae Mistress.
Since the 1980s, a number of prominent Canadian reggae artists have dominated the reggae music scene in Canada. The Calgary International Reggae Festival is Western Canada's pre-eminent reggae music and culture festival, featuring performers from Canada and around the world in a family-friendly setting.
Click here to watch a video of an interview with ReggaeFest's Director of Media/Publicity, Christina Mariott, and music by Shabuungo Ouda Ouda, Idlers and Friendlyness and the Human Rights.
Click here to watch a video of the Canadian reggae band SUNFORCE singing Lightning Strikes & Island in the Sun
Katchafire is a New Zealand roots reggae band from Hamilton, New Zealand. Katchafire formed in 1997 as a Bob Marley tribute band and later began writing and performing their own songs. The band has toured Australia, the UK, Europe, the USA, and New Caledonia.
Click here to watch a video of Katchafire singing "Seriously"
Jason Hershey, better known as O-Shen, is a reggae musician, born and raised in Papua New Guinea. O-Shen resides in Hawai'i but still goes to PNG. He raps and sings most of his songs in Tok Pisin.
Click here to listen to O-shen singing Island Jewel on a music video produced by Magnum Productions Fiji, and filmed at the Uprising Beach Resort in the Fiji Islands
Men at Work are a Scottish-Australian rock band who achieved international success in the 1980s. They are the only Australian artists to have a simultaneous #1 album and #1 single (Business as Usual and "Down Under" respectively) in the United States and United Kingdom. They have sold over 30 million albums worldwide. The band's sound is distinguished by its use of woodwind and brass instruments. Their most famous song "Down Under" has a reggae beat and helped to promote the reggae sound in Australia. It has since become a popular and patriotic song in Australia. Men at Work performed "Down Under" at the closing ceremony of the 2000 Summer Olympics in Sydney, Australia
Click here to listen to Men At Work singing "Down Under" at the Sydney 2000 Olympic Games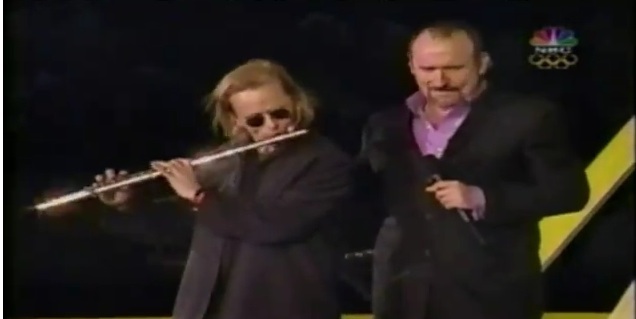 Emilia is a singer of Hawaiian descent whose songs reflects the contemporary musical spirit of the Hawaiian islands. The strongest influences on her singing are reggae and electronic pop music. Her song Hawaiian Beauty (see link to video below) which she sings to a reggae beat came to life through the iAMHERE PROJECT, which is a collective of musicians that seek to bring together a unique fusion of world music. Their songs are a blend of reggae, Latin, West African, soul, jazz, hip hop, and rhythm & blues.
Click her to watch a video of Emilia singing Hawaiian Beauty.
And of course there is the music of the late Israel IZ Kaʻanoʻi Kamakawiwoʻole. His beautiful voice, ukulele playing and incorporation of the genres of Hawaiian, jazz and reggae music have made some of his songs world famous and he remains one of the major influences on Hawaiian music today.
Click here to watch a brief video of IZ singing his famous version of "Somewhere over the Rainbow" while playing his Hawaiian ukulele. It ends with footage of the scattering of his ashes in the Pacific ocean near where he was born on the island of O'ahu shortly after his tragic death of obesity at the age of 39.