The Transpacific Project is establishing an international and interdisciplinary network of researchers, writers, scholars, scientists and analysts with expertise in one or more of the areas, dimensions, issues and aspects of transpacific relations. This network will serve as a medium for exchanging, integrating and developing pre-existing and new knowledge, previous and new perspectives and existing and new paradigms. Anyone interested in becoming a member of this network and/or recommending others as members are encouraged to send an email to: Richard L Harris, PhD, Director of the Transpacific Project, at the following email address: rharris@csumb.edu
The network diagram below depicts the kind of connections which may develop as a result of establishing a network of experts on transpacific relations.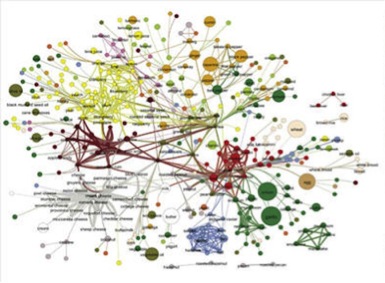 Actually, this diagram is a Global Flavor Map developed by researchers at the University of Cambridge who used network analysis to chart the relationships between the chemical compounds in the recipes used by cooks in North America and Asia. These researches found that North American cooks rely on recipes with flavors that are related, while East Asian cooks use recipes that have sharply contrasting flavors. For more information on this research click here.